INSPECTION PHASES
ESEC provides a number of inspection services throughout Denver relating to the building envelope including wall coverings and roof coverings. From EIFS inspections to stucco inspections, we are here to help.
PHASE 1: Initial Site Visit, Observations and Reporting
Phase I observations of the basic building envelope include:
A visual inspection of the exterior walls to identify the type of wall cladding systems present on the building.
Observing the interior to check for any visible signs of moisture such as stains on ceilings or walls, loose trim or bulged floors.
A non-intrusive scan in areas of concern if the wall cladding system is an (EIFS) Exterior Insulation and Finish System and not a Hard Coat Stucco (HCS).
Phase I reports typically include the following:
Photos of all elevations
Summary references, repair standards, and appropriate repair options
Photos of typical system concerns with detailed comments
Time for average 3000 sq. ft. home is typically 1-2.5 hours on site plus a similar amount of time on the written report. Reports are emailed within 2-3 business days to all appropriate parties. ESEC is available for follow-up consultations for all inspection reports.
PHASE 2: Investigation including Probing
Phase 2 observations include:
A Phase 2 investigation relies upon the information gathered in Phase 1 to determine the locations most likely to have moisture intrusion with potential damaged substrate and framing. The locations of high potential damage are then probed and documented as follows:
Locations and results of moisture testing identified in Phase 1.
The probe for an EIFS system is double-pronged and approximately 1/8″ in diameter.
The probe for hard coat stucco or stone wall cladding system requires drilling a pair of 3/16″ holes through the HCS or stone mortar joints or other wall cladding materials.
In a standard Phase 2 investigation, ESEC typically executes 3-to-5 probe locations per 1000 square feet to get a representative sampling of conditions present on the property. Probing allows the inspector to investigate behind the wall cladding system without removing parts of the walls. The probes allow an accurate reading of moisture and test of the substrate condition to see if it has been damaged by moisture intrusion. The inspector will then seal the holes with caulking that closely matches the color of the stucco.
PHASE 3: Extensive Evaluation with Additional Methods
This phase of investigation requires a custom proposal and scope of work based on information gathered from Phases 1 and 2. It can typically include areas to be investigated, methods of investigation to be used, and, perhaps, water testing and/or thermal imaging.
PHASE 4: Destructive Investigation
This phase of investigation also requires a custom proposal and scope of work based on information gathered from prior phases. It will identify the portion of the property to be investigated and the methodology of the investigation, which typically includes destructive removal of material in a controlled manner to better evaluate existing construction techniques.
Inspection Fees
Fees are based on standard hourly rates.  For an estimate of the cost for an inspection or a proposal, please call our office at (303) 840-1630.
Items that are factored into the cost estimate include:
Age of property and wall cladding
Approximate size of the property
Height of property (including number of stories, walk-out basement)
Client issues and concerns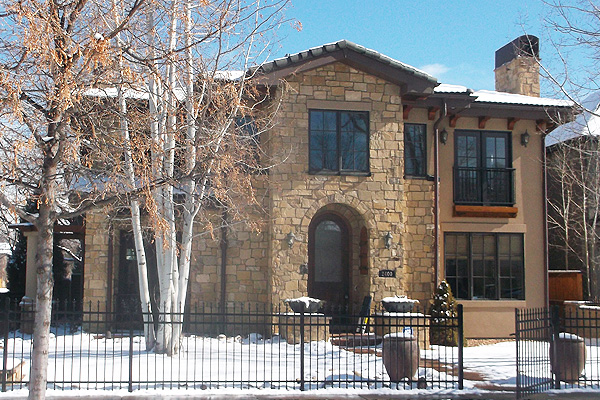 PHASE 1: Hardcoat stucco and natural stone veneer with concerns observed.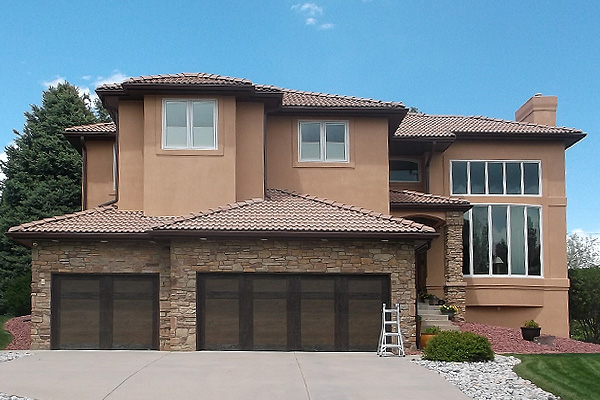 PHASE 2: EIFS and stone veneer with substrate deteriorated by water intrusion.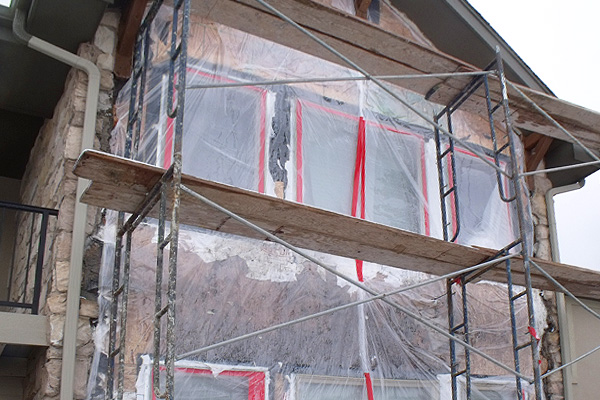 PHASE 3: Water testing to re-create water intrusion in stone veneer.
PHASE 4: Destructive testing for water intrusion in stone including large mushroom hinting at moisture problem.
---